MYERS AUTOMOTIVE GROUP APPOINTS CYRIL LEEDER AS CHIEF EXECUTIVE OFFICER
Monday, August 27, 2018
Ottawa - Harry Mews and Robert Mews, owners of the Myers Automotive Group today announced that Cyril Leeder will be joining the Myers team as Chief Executive Officer.  In this newly created position, Cyril will oversee the operations of the Company and help develop and implement its long-term strategies.
"We are very fortunate to have Cyril join our organization", commented Harry Mews.  "Beyond being a community leader in Ottawa for so many years he will bring a unique perspective to the rapidly changing automotive retail industry".
Cyril is one of the original founders of the Ottawa Senators Hockey Club and was with the team for 27 years in various capacities including most recently as COO and President of the Club.  He has also served on numerous corporate and non-profit Boards of Directors throughout his career.
Rob Mews commented, "Our group now has 17 locations with almost 1,000 employees so the timing is right to have Cyril's expertise and background help us continue to exceed the expectations of both our customers and our employees".
Myers Hyundai Kanata's automotive expertise is a product of our sustained interest in industry trends and characteristics. We are privileged to share the latest news, promotions and events with you and hope the information will enhance your shopping experience. As you know, there are many new cars from which to choose, and we believe an informed customer is the best customer.
Hyundai scores big with all-new Kona subcompact SUV!
Check out the all this great review of the all-new Kona, the subcompact SUV for city living: https://thechronicleherald.ca/wheelsnews/1559195-hyundai-scores-big-with-all-new-kona-subcompact-suv
Congratulations to the Smiths Falls Bears Peewee B players, coaching staff, and parents for earning their way to the semi-finals of the Chevrolet Good Deeds Cup. #gooddeedscup #GoBearsGo
We are asking for community support and to rally behind the team. Voting begins Jan 15th at 12:00AM and will end on January 28th at 11:59PM. The Bears submission of their "Good Deeds" video goes live on the Chevrolet YouTube Channel at https://youtu.be/HIwN89YbFHk
Please watch the video as much and as many times as you wish and please share with everyone you know!
Please remember to only watch the Smiths Falls Bears Peewee B as viewing other team's video submissions also counts as a vote against us! Thank you for your support in bringing home the CUP!
Ottawa Myers Automotive AAA Hockey
The Myers Automotive Group is excited to announce our partnership with the Ottawa Senators AAA Hockey Association and the launch of Ottawa Myers Automotive AAA Hockey program!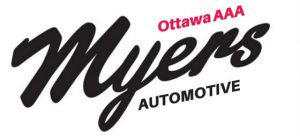 The Ottawa Senators AAA will be rebranded as Ottawa Myers Automotive AAA Hockey and will continue to build an Association that's primary purpose is player development and organizational excellence.
There will be changes, procedures and policies put in place over the next while. Please bear with us in transition as we move another step towards giving members a truly High Performance development experience.
Many thanks to all the people who have helped put this together!
Remembering Sandy Ruckstuhl
Support the Myers Automotive Acute care of the Elderly (ace) unit this Giving Tuesday - November 29th
Each year Black Friday and Cyber Monday help the economy. Now there's a new day after Cyber Monday called Giving Tuesday, where instead of getting, you have the opportunity to join a movement dedicated to giving back!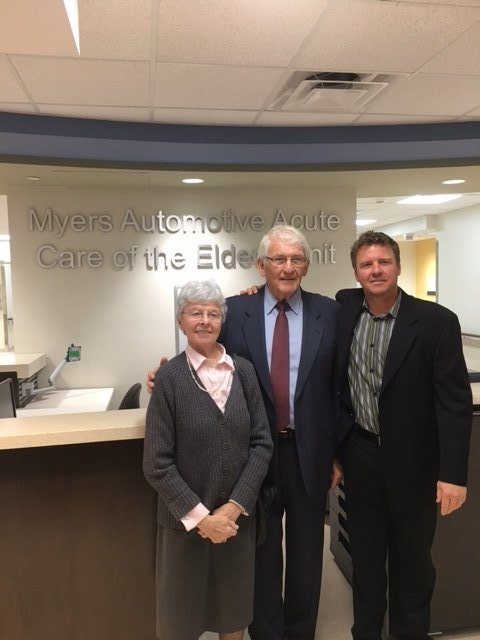 Giving Tuesday is a movement that began in Canada with the hopes of helping important causes in their fundraising efforts. Our good friends at the Queensway Carleton Hospital are Giving Tuesday participants this year on Tuesday November 29th, and are looking for donations to help complete the community support needed for the new Myers Automotive Acute Care of the Elderly (ACE) Unit at the hospital. We are so happy to see the Myers Automotive ACE Unit opening and preparing to begin accepting patients this November and hope you will help this important unit which will help many patients who need the specialized care the unit provides.
Visit givingtuesday.ca and make your gift this Giving Tuesday.
For more information on the Myers Automotive ACE Unit, read the article on the unit below.
The Myers Automotive Acute Care of the Elderly (ACE) Unit Opens at Queensway Carleton Hospital
The new Myers Automotive Acute Care of the Elderly (ACE) Unit at the Queensway Carleton Hospital recently celebrated the official opening and is preparing to start taking patients soon. As the Myers Automotive Group donated $1 million towards the ACE unit, a few members from the Myers group and Mews family, including Mr. Hank Mews and son Mr. Robert Mews (Executive VP of The Myers Automotive Group) were on hand at the grand opening ceremony which was timed to a visit from Ontario Premier Kathleen Wynne, and Infrastructure Minister and local MPP, Bob Chiarelli.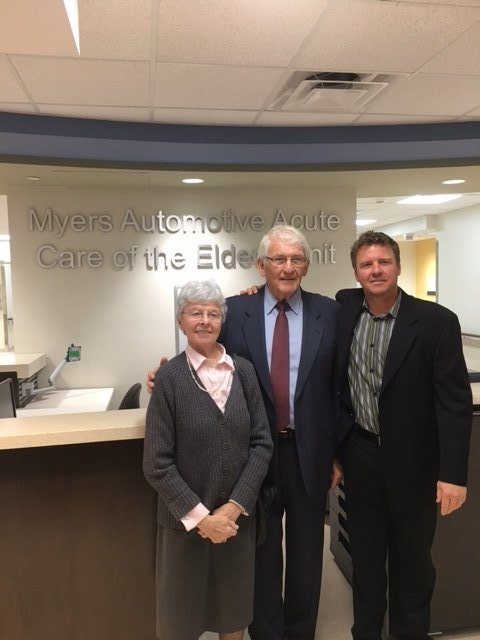 The Mews family and the Myers Automotive Group have always felt it is important to give back to the Ottawa-area community and are happy to have made this contribution to the Queensway Carleton Hospital, where Mr. Hank Mews has previously sat on the hospital board. We look forward to seeing how this new unit helps the Ottawa-area community members in need of this specialised care.
Below you will find an article written by the Queensway Carleton Hospital on the new Myers Automotive Acute Care of the Elderly (ACE) Unit.

Canadian Premiere All-New Hyundai IONIQ

Forget everything you ever thought about hybrid and electric cars.. Depending on how you drive, how far, and how often, each IONIQ has its electrifying advantages. Once you get to know them, it'll be easy to decide which one is right for you.
Find out more about the All-New Hyundai IONIQ here!
Support the CHEO Foundation
Myers Kanata Hyundai is happy to have helped with the Myers Automotive Group's fundraising efforts to support the CHEO Foundation. One dollar from each tire sold across the Myers Automotive Group during our recent tire event was donated and we couldn't be happier to have helped support such an important cause!

"The Competition" Strikes Again!
The "Competition" from the popular Hyundai commercials and advertisements recently caught up with Myers' own Steve Holmes. Thankfully, nobody was hurt, although the competition still has yet to figure out Hyundai's secrets!

Support the CHEO Foundation
Myers Automotive Group is happy to present a $5000 donation to CHEO! Here is Bob Rintoul, General Manager at Myers Cadillac Chev Buick GMC, presenting the cheque with the famous CHEO bear!
Donations and Volunteers Needed!
A skate drive and free skating lessons are being held for the newly arrived Syrian refugees in the Ottawa area and organizers are asking the public for volunteers and donations to help make this event a huge success. Donations of new or used skates, as well as new outdoor socks for inside skates, and any other skating equipment (helmets, knee pads, skate guards, etc) can be dropped off at any Myers location
Click Here to find your closest Myers location
Organizers are asking for volunteers to help with skate fitting, skating instruction, and sorting (to sort skate donations by size the Friday - January 29th and February 5th - before the two weekends for distribution and the lessons)
Location for volunteers is Cafe 111 at 111 Lisgar St., inside Ottawa City Hall. That is where the sorting will take place donations can also be dropped off there Friday January 29th from 4-7pm, Friday February 5th from 4-7pm or on either Saturday and or Sunday of the event between 9-4
Distribution and Lesson Dates:
Saturday January 30th, 2016
Sunday January 31st, 2016
Saturday February 6th, 2016
Sunday February 7th, 2016
Our Winter Tire Winner!
Congratulations Terri on winning our "Win your tires" contest!!!
Enjoy a safe ride this winter! We would like to thank everyone for participating and making our winter tire event a success once again this year!
J.D. Power Initial Quality Study
J.D. Power recently put out its Initial Quality study showing the top recognized brands in the automotive industry this year. The survey that was conducted asked 84,000 people any problems they may have encountered during the first 90 days of owning or leasing their new vehicle. As one of the highest rated vehicles compared to industry standard, Hyundai ranked as 4th overall, behind only Porshe, Jaguar and Kia.
"This is a clear shift in the quality landscape," said Renee Stephens, vice president of U.S. automotive quality at J.D. Power. "For so long, Japanese brands have been viewed by many as the gold standard in vehicle quality. While the Japanese automakers continue to make improvements, we're seeing other brands -- most notably Korean makes -- accelerating the rate of improvement."
As far as individual models go, General Motors Chevrolet vehicles tie with three other manufacturers, Hyundai, Volkswagen and Nissan as high ranked in overall satisfaction according to the survey results. Top placing models rankings include:
hevrolet Spark - Best City Car
hevrolet Malibu - Best Midsize Car
hevrolet Sonic - Top Three Small Car
hevrolet Camaro - Top Midsize Sporty Car
Infiniti Q70 - Top Three Midsize Premium Car
Nissan Sentra - Best Compact Car
Volkswagen Eos - Top Compact Sporty Car
hevrolet Impala - Top Three Large Car
Buick Encore - Top Three Small SUV
hevrolet Equinox - Best Compact SUV
Read More on this study at the J.D. Power website here.
Our Winner For The $100,000 Giveaway
Congratulations to Janice on winning $11,111.00 from Myers Kanata Hyundai as part of the Myers $100,000 Giveaway!! Thank you to everyone who participated!


We are proud to announce that the Myers Automotive Group has donated $1,000,000 to the Queensway Carleton Hospital!


The Queensway Carleton Hospital Foundation has announced the donation to the Acute Care of Elderly Unit, which will be named the Myers Automotive Acute Care of the Elderly Unit.
First of its kind in Eastern Ontario, the ACE Unit is expected to open in 2016 and contain 34 beds to better attend the needs of the growing elderly community in the greater Ottawa area. Currently, the population in Ottawa consists of about 14% of residents being over the age of 65. This is expected to increase by 3.5% per year over the next 20 years.
This new expansion in the Ottawa medical industry will give focused care to our senior community members, giving them the service they need for shorter hospital stays and the ability to stay local for more specialized treatments.
See the full article from the Ottawa Citizen here
Myers Engine Transmission For Life!

We are happy to introduce the Myers exclusive NO CHARGE Engine/Transmission for life program, at each of our 8 locations across Ottawa!
All new and used vehicle purchases are eligible, and is valid for as long as you own the vehicle.
Regular servicing must to be done at a Myers dealership.
Contact Us For More Details
Fifty Five Plus magazine article on the Myers Acute Care of the Elderly Unit

Click Here to Read More
WSP Sens Alumni & NHL Celebrity Cup
Myers Automotive Group is proud to have been a part of this year's WSP Sens Alumni & NHL Celebrity Cup tournament that took place on March 28th. This event raised more than $100,000 for the Ottawa Senators Foundation in support of children and youth in our community.
For more information on the Sens Foundation, visit www.sensfoundation.com
Congratulations to all participating teams!